From 1750s English potters began making salt glazed brown stoneware vessels,
mainly mugs and bottles with 'sprigs',
pictures rising from the clay. Originating from potteries on the south bank of the Thames, from Mortlake in the west to Vauxhall in the East. Some types are referred to as
Fulham type stoneware others Lambeth type.
Among the most popular vessels were the hunting jugs, or toby jugs, used for serving or storing ale and produced from the 18th to early 20th century. I do remember these jugs from my childhood, perhaps from a display cabinet or perched on a high shelf in one of my grandparent's houses. I can still feel the glimmer of distain for what I thought were rather tastless, gaudy, rather scary monsters – how things change. Perhaps I'm confusing the ones below with the toby jugs made in the shape of a face.
As the name suggests, a lively hunting scene runs around the bottom section of the jug, with either a hare, deer or fox chased by hounds and huntsmen on horseback. The same series of pastoral scenes, a tree, a windmill, a farmyard, and later 'Toby' Fillpott are emblazoned on the upper section. Philip Mernick's website reveals whilst the same scenes were depicted, different potteries used their own designs and therefore specific 'sprigs' can be traced to individual potteries, either Kishere or Sanders in Mortlake, the Vauxhall pottery, Doulton and Watts, Stiff and Sons or Stephen Green in Lambeth.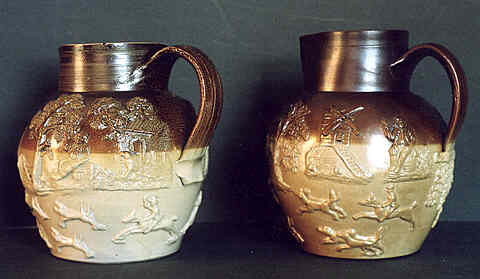 Hunting Jugs (mernick.org.uk)
Several months ago I found a fragment from a hunting jug, the nearest similar sprig I can find is attributed to the Kishere pottery, but as you can see not an exact match.
Thames Mudlarking Find: Hunting Jug Fragment
Kishere Pottery Hunting Jug 1797-1843
(Museum of London )
I've also found a couple of sprigs in plaques, which I'm guessing are from other forms of stoneware, After spending
far too long trying to find something similar on the web, to no avail,
I've given up and so posting now to stop me wasting any more time surfing.
Thames Mudlarking Find Stoneware Plaque
Thames Mudlarking Find Saltglaze Windmill Scene