I put down the first piece of stoneware I found, thinking the little bit of writing wasn't worth it. A few minutes later found a similar larger shard with a lot more, I went back ten feet to retrieve the discarded piece and as I suspected they slotted together. A fortnight later I found the missing middle fragment in the same place.
Mudlarking Find Georg Kreuzber Stoneware Bottle
Not an old find, Victorian and mildly interesting. It's German and probably held mineral water. Produced for Georg Kreuzber, a wine merchant from Ahrweiler who in 1850s began bottling mineral water from the Apollinaris spring .By 1860 40,000 bottles had been dispatched across the globe. The refinery shut in 1878.
The rather crude and imperfect incised stamp has a circular inscription 'Apollinaris-Brunnen M-W'. Inside appears a boaty logo and below 'Georg Kreuzberg, Ahrweiler, Rheinpreussen'.
A clearer picture of the logo on another bottle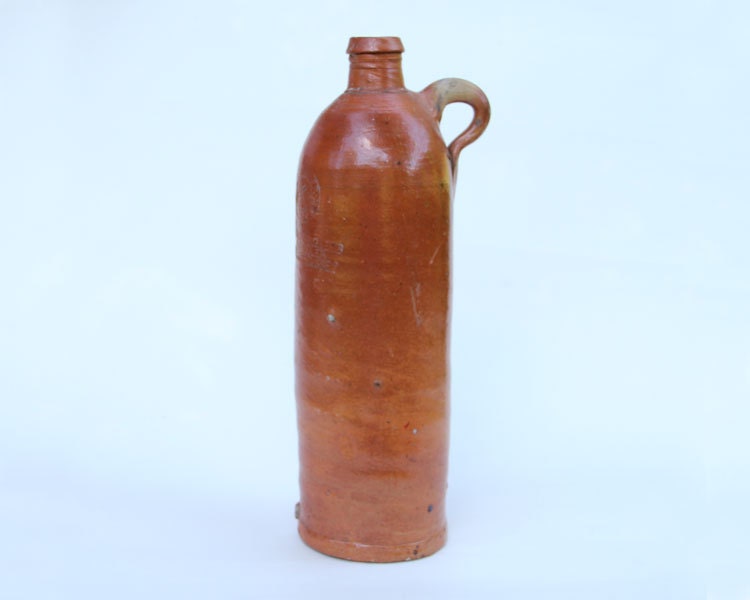 Georg Kreuzberg Mineral Bottle (Etsy)
There seem to be quite a few German mineral water bottles scattered along the Thames and a number of different companies. Others have suggested these bottles contained gin and this type continued to be produced until the 1890s. I tracked down a picture of one with the label intact. Exported to the States seemingly from London with their offices at 19 Regent Street, this rather salty mineral water must have been a hit.
Georg Kreuzberg looks like a man about town. He developed the springs in the area, building the first bath house with hotel attached at Bad
Neuenahr hot spring. He had a penchant for sequoia and started a bit of civic planting, some of the redwoods still stand today.
old postcard with Georg Kreuzberg and dedication of Neuenahrer Hot Spring in 1858