I'd expected to come across a head of a china figure at some point but didn't consider it could be a torso. I still do wonder why on earth I picked this broken old thing up. It's a specimen of things I could never stand - china figurines, but things always seem rather more interesting when you ease them out of the mud and want to figure out what they are and the story they have to tell.
Staffordshire figurines were produced from 1775 onwards in 'the potteries' a collection of six towns Burslem, Tunstall, Hanley, Fenton, Longton and Stoke, now all subsumed into Stoke on Trent.
Press moulds were used, the worker's finger print can be seen clearly inside my find, left as they pressed the clay into the mould. Earlier figures were made with back and front moulds with features and colour all the way round. Enamel colours were painted onto the glazed figures by hand, fixed by another firing at lower temperatures, occasionally gilt was then added before a final firing.
After 1840 figures tended to be slip caste in one mould and flat backed so they could sit flush with the wall atop mantelpieces.
The emphasis was on cost. The figurines were churned out cheaply and quickly using child and women's labour for 12 hours a day 6 days a week. There were dozens of potteries producing them. Virtually no one bothered to imprint maker's marks. Many potteries went out of business in this highly competitive market and sold on their moulds and stock. Therefore it's rare you can trace particular figures to specific potteries.
What's interesting about the figurines is the insight they provide into popular taste. They offered the middle classes an affordable alternative to the expensive porcelain figures produced by the Meissen pottery in Germany and Chelsea and Derby factories in England.
It seems the Victorians were particularly mad about these figurines. Perhaps more people had greater disposable income as the industrial revolution kicked in and production costs declined so they were within reach.
The early Georgian figurines tended to represent biblical or classical figures or romantic representations of rural life.
In Victorian times, the celebrities, venerated and events of their day were quickly caste. Likenesses were copied from prints. Purchase and display was a way of communicating your erudition, cultivation, humour and how with it you were, perhaps equivalent to the facebook likes, shares and retweets of today.
Actors and comedians seem to have been their celebrities, almost all of whom are forgotten now. Below is John Liston, apparently one of the greatest comedians of all time, he was the first comic actor to command a higher salary than a tragedian, earning the vast sum of £60-£100 a week in 1820.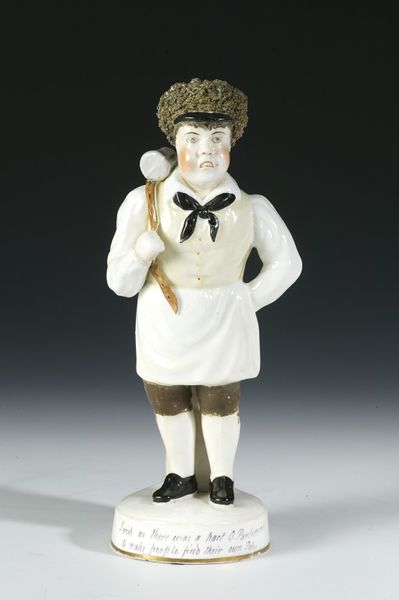 John Liston Playing Sam Swipes at the Haymarket 1820 (V&A)
Busts of politicians, clergy and Shakespeare were produced.
Bust of John Wesley (Madelena.com)
Scenes of intrigue were represented, such as Stanfield Hall, where local notable Isaac Jeremy met his end at the hands of an illegitimate gentleman farmer's son James Rush, as were dramatic events, such as 17 year old Ellen Bright's death by tiger in 1850.
Death of the Lion Queen 1850 (madelena.com)
It's not evident to me what period my find is from, she was found on the Georgian mudbank amid shards of white salt glazed plates and early Worcester Porcelain, so I suspect she's one of the early Georgian types, a hunch backed up by her roundness and similarity to the figures below produced around 1790.
(thank you to V&A and Madelena Antiques for all the information on their websites which helped me piece this together).