Every spare hour I've had I've skipped out into our shed, flicked on the fairy lights and CD player and lost track of time pondering, snipping and shuffling ceramic.
Pleasure is deepened when the rain hits the corrugated iron roof and the wind gusts outside.
And here are the first results.
I started off with the relief moulded surrounds of Staffordshire white salt glazed stoneware plates, first produced in block moulds in 1740. They were the first home made refined tableware which didn't chip (unlike delftware). Expensive but I assume cheaper than the imported Chinese porcelain and very fashionable in their day. Standards patterns were used to decorate the edges, 'barley' or 'basket' and the 'dot, diaper and basket' all of which are in the section below, the 'feather' design I've used elsewhere. By 1750 white salt glazed stoneware caused the demise of the delftware industry, but by 1760 it was itself superceded by creamware and pearlware.
Mudlarking Mosaic White Salt Glazed Stoneware from Staffordshire 1740 onwards
Dot, Diaper and basket English Saltglazed Plate C 1760 (Spode Ceramics.com)
Staffordshire Salt Glazed Soup Tureen C 1760 (live auctioneers)
The age of this stuff is brought home when you realise the people eating off these plates wore wigs, corsets, lace caps and big satin dresses.
A British Family Served with Tea 1745 artist unknown (b-womeninamericanhistory)
and that they were used in a London which was far smaller
John_Rocque's_Map_of_London 1746 (Wiki)
In keeping with mosaic design I'm plagiarising, on the right I laid out a more textured section using the bottoms of bowls and plates, a mixture of white salt glazed stoneware, porcelain and creamware. My first veer away from the mosaic I'm following is the central section which is comprised of
one of my favourites, debased scratched blue stoneware produced from 1765-95. Inky cobalt dissolves across the edges of the incised abstract leaves and flowers. Again very fashionable but it seems only for a short period. The bottom shard on the left has just a weenie bit of a medallion, a little secret tucked away in the corner of a rectangle.
Mudlarking Mosaic from L to R Mocha ware, debased scratched blue and plate bottoms
Then onto modifying my original wave of blue shell edged pearlware, easy to find along the foreshore as it was produced in volume from 1780 -1840. It was relatively cheap and consequently owned by most reasonably comfortable households across England and the States. The name derives from the scallop like edge mouldings which in earlier versions were carefully painted with blue in downward brushstrokes, in later cheaper versions pottery workers cut corners and just painted a stripe of blue along the edge.
Mudlarking Mosaic Shell Edged Pearlware 1780-1840
Blue Edged Pearlware Dish Joshua Health circ 1790 (Martyn Edgell)
Unfortunately I haven't enough of the white and blue slip bands which sometimes decorated mocha ware jugs, what a shame - I'll have to keep mudlarking. Mocha ware is less old dating from between 1792-1850, taking us into Victorian London.
Mudlarking Mosaic Mocha Ware Bands
By 1850 London had expanded hugely
London in the 1850s (Wiki)
and fashions were rather more relaxed and comfortable although still look so different from our times - it seems strange they would be in possession of a 1950s looking jug.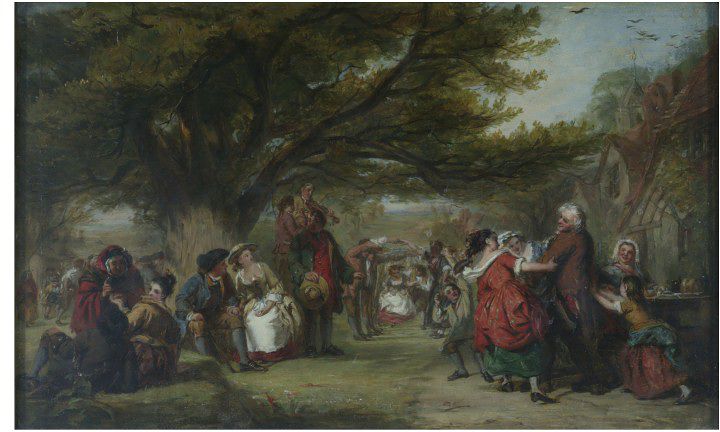 An English Merry-Making, a Hundred Years Ago circa 1846 William Frith (V&A)
Family Portrait in a Conservatory
H.R. Miller, 1850 (V&A)
and then on to the a far more trickier section of bowl bottoms, sitting above the 1950s shed carpet.