Last Friday the unmistakable signs of an imminent migraine were not enough to dissuade me from catching a particularly low tide. The weight of traffic prompted abandonment of my preferred bus journey & I joined working London on a crammed tube. As I walked down to the Thames I was met by the army of silent pacing city workers spewing from suburban trains. It was good to arrive at my otherworldly destination. A familiar regular was already searching for illusive complete bellarmines. I dived down to my favourite patch and for the first time caught metal.
The first 1.5cm in diameter is certainly lead. I suspect it is a lead cloth seal from
19
th
century.
Mudlarking Find: Lead Cloth Seal Possibly 19th Century
The second is a copper alloy pressed button produced between 1850 - 1950 and consequently considered modern by archaeologists. Etched on the surround is 'suspender' apparently the name for this type of button in America.
Mudlarking Find: Copper Alloy Button 'Suspender'
My trip was characterised by relief patterns on stoneware, my first find was a 300+ year old beard from a Bartmann Jug, used to hold beer or wine and probably imported from Germany.
Mudlarking Find: Bartmann Beard
Bartmann Jug 1501- 1700 (Museum of London)
The small oak (?) leaf below led me on an internet journey which uncovered rather beautiful German jugs with a botanical theme. Most likely produced in 16th Century Cologne Germany and imported via Steelyard, a German trading post in London where Cannon Street Station stands today whose Merchants were painted rather wonderfully by Hans Holbein in the 1530s.
Leaf on stoneware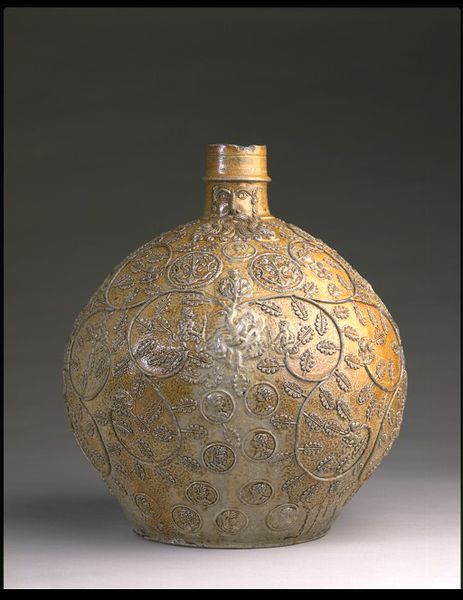 Cologne jug 1550 (V&A)
Georg Giese a German merchant at Steelyard, Hans Holbein 1532
Established by the
Hanseatic League
,
Steelyard was
a separate enclave for 600 years . At one point walled with 400 residents extensive warehouses, residences and churches on the banks of the Thames. In 1597 Elizabeth I expelled the German merchants and steelyard was closed, but seems to have remained an area with German presence, where Samuel Pepys would occasionally hang out
'

Up and to the office
all day, where sat late, and then to the office again, and by and by Sir W Batten
and my lady
and my wife
and I by appointment yesterday (my Lady Pen
failed us, who ought to have been with us) to the Rhenish winehouse at the Steelyard
, and there eat a couple of lobsters
and some prawns
, and pretty merry, especially to see us four together' Pepys diary 1665
It lives on in names only. 'Steelyard Passage' part of the Thames walkway runs under Cannon Street Station, with a snake of pavement lights marking the meanders of the Thames, kept company by evocative piped dock sounds.
Steelyard Passage (Londonist)
The next two finds have
rather delicate, refined and carefully executed relief patterns. The first branches, I suspect from a 19th Century hunting jug and similar to those on Mortlake jugs.
I can't find a match for the second shard with vine leaves and grapes on the right. Somehow I think it might be Doulton but can in no way justify that claim.
Mudlarking Find: Branches from 19th Century Mortlake Hunting Jug
Mortlake Hunting Jug 1810-20
I have to sneak in a find from a fortnight ago, a rather ill executed hound who was pelting round a hunting jug.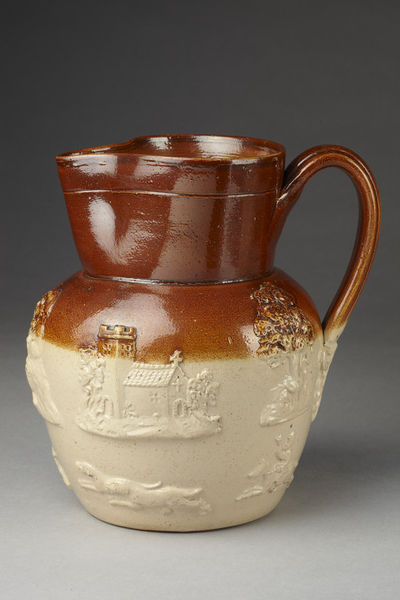 Fulham Hunting Jug 1874- 1889 (V&A)
Pleased to find unusually large chunks of delftware and hand painted Chinese export porcelain.
Mudlarking Find; Large Chunk of Delftware 1570-1750
Mudlarking Find: Large Chinese Export Porcelain Shard 16th-20th C
Another mudlarker later observed that the density of porcelain seems to prevent it from colouring so it always looks brand new.
This shard
with intriguing magical markings caught my eye, I think it's stoneware
Mudlarking Find: Stoneware Shard
There was one other place I wanted to scour before I Ieft – sadly I was becoming too poorly to take advantage of extra shore exposed by the low tide. The bonus however was meeting two guys who are as passionate about pottery finds as I am. One of whom has been drawn to the Thames for the last 20 years and very willing to share his encyclopaedic knowledge.
I had planned such a nice day on my own, I was going to finish up with a long overdue trip to the wonderful Museum of London, but sadly the migraine beat me and I had to limp home to bed.