Slightly bonkers, last Sunday decided to get up at 6:30am (which as the clocks had just gone back was in fact 5:30) to catch the very early low tide for a mudlarking pick me up.
As I tiptoed out of the house an orange strip of sunrise guided me down the hill. I'm always rewarded when I'm up and out early, why don't I do it more often? My luck was in today the bus I wanted pulled up as I reached the bottom. As I crossed the road, a drunk young Spanish guy head to toe in a red devils costume was pursued by a couple of security guys from Tesco Express, who relieved him of a six pack of larger. A different crowd on the bus this morning - early Sunday workers, each seat held a silent solitary man shifted next to the window. No one was reading or playing on their phone, just staring out into the dark, London masked by condensation on the windows. No mass evacuation at the tube stop, the bus is cheaper.
As soon as the bus manoeuvres
itself around Old Street Roundabout and runs down the appropriately named City Road it feels as though I'm into old London. The old displays itself in road names London Wall, Pinners Passage, Threadneedle Street. So busy trying to spy interesting names, I almost miss my stop.
The Thames was so smooth today it looked like a sheet of ice gliding out. A few eddies here and there. As I looked back Tower Bridge was silhouetted against a panorama of orange glow sunrise, kicked myself for not bringing my camera. This was compounded when I met a guy on the foreshore taking pictures. He said he'd been waiting a long time to get this shot, when the sun was rising in exactly the right place, tide out etc. He'd recently been made redundant and was entering his photo into a competition to show them - let's hope he wins. Apart from the photographer, for the first time there was absolutely no one else down there for the whole of my two hour mudlark.
Find of the day and indeed the year was one of my earliest. As I bent down to pick up a slice of medieval pottery I noticed a round object hidden in the stone's shadows. To my delight a small face peered back at me, only 2.5 cm tall it had been separated from its original home at the neck.
Mudlarking Find: 16th Century Tudor Pottery Head
I suspect a mould was used to create the head, then covered in yellow glaze. Perhaps most touching is the thin looped strip of red clay which makes the top of headdress. The headdress is probably a French hood which originated in Brittany, first worn by Ann Boleyn in the late 15th century and became popular in Britain in the 1530s. Apparently it continued to be worn in Britain until the early decades of the 17th century.
The headdress above looks as though it covers the woman's hair, I believe a veil would have hung down at the back. Do the holes represent beading as in the pictures below?
I wonder what it came from- a figurine, attached to some kind of vessel? The stabbing looks rather hurried and the right eye hole is slightly bigger than the left, perhaps they were produced in large quantities. I've never seen anything this old made with what appears to be two different type of clay.
I'm guessing that this is 500 odd years old, we'll see what the Museum of London has to say.
Update
A follower (Merrywebb) let me know this find was similar to a 17th C head she found in Virginia US, which they concluded was from a brazier made in Saintonge France. This sent me to google images again, where miraculously I came across the image below described as ' a German bi-chrome whiteware figurine dating to the 16th century. The female has an elaborate hair style of plaits which are coiled back and up around a flaring headdress. The fabric is off white with buff surfaces and a yellow lead glaze. Stabbed detail has been added to the hair and eyes and the hair is picked out by a purple-brown glaze. A similar figurine is published in Hurst, Neal & van Beuningen (1986:237 no. 356 fig. 112) which is dated to the 16th century. The authors note that figurines were made in several centres in Germany particularly at Aachen and Cologne. The figurines are mould-made. The headdress on this example is not as elaborate as the published example but both are unglazed on the centre back of the head-dress'. The second picture shows the 'type' of body it could have come from. The plot thickens.
An Boleyn copy of lost original of 1533–36
My husband who is becoming rather exasperated with my mudlarking craze, has asked me to limit what I bring back and to stop picking up more of the same. So in that vein I'm no longer going to post all the days finds - weaning myself off popping as much in my bag is another matter.
I've been hoping to find a Westerwald 'G R' - (George I & II , 1714-1760)
, so very happy to find the 'R' at least.
Mudlarking Find: 'R' from Westerwald GR Medallion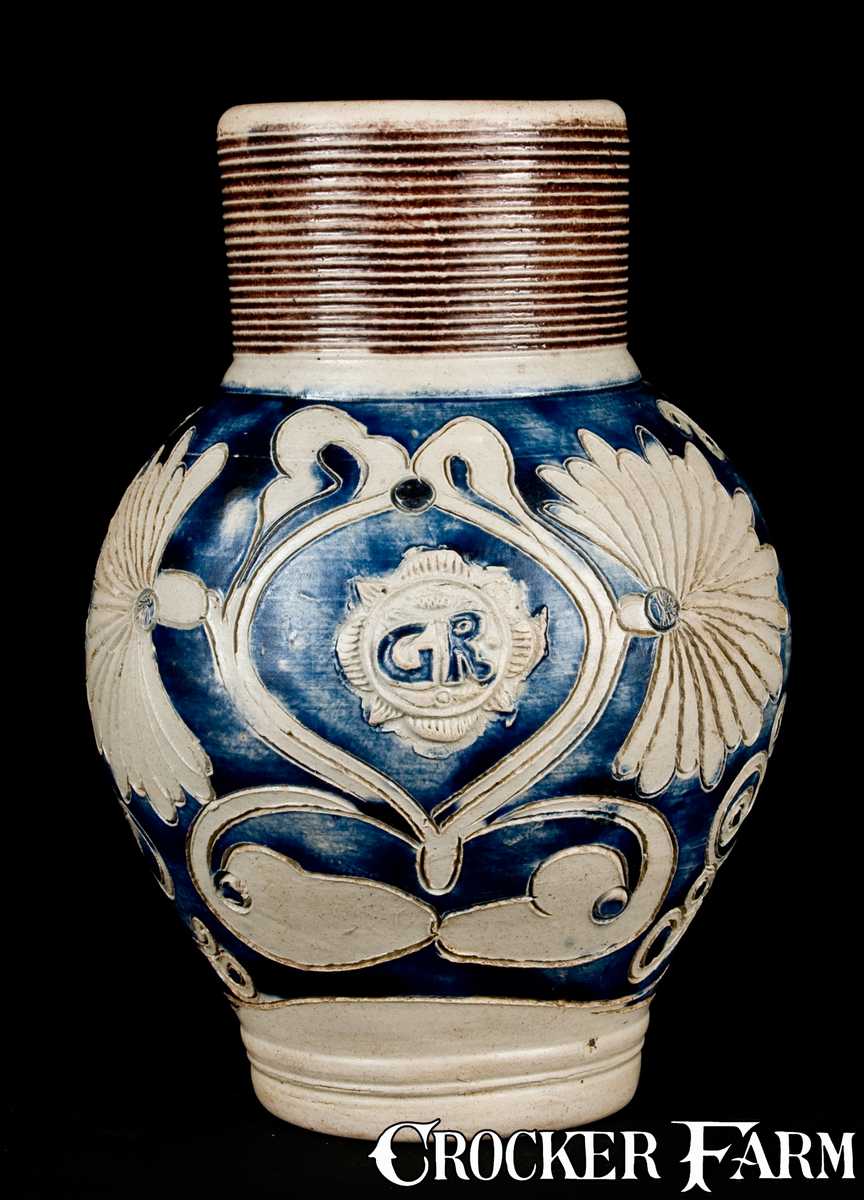 Westerwald Mug 1770 (Croker Farm)
A big chunk of Stoneware with writing, whilst there are some good leads on here, no luck yet in identifying what it might have come from or where.
Mudlarking Find: Stoneware with writing
I do like finding a section of vessel rather than just a shard. I'm almost certain this is a drinking jug or beaker from Germany sometime between 1301 - 1610, a massive date range but I can't make out if it's from Siegburg or Raeren. Both made stoneware in mid grey with an iron wash which I think gives it the orangey brown colour and a glossy ash glaze, with thumbed decoration at the bottom. Both appear to have been imported to London in huge quantities.
Mudlarking: German Drinking Jug 1301- 1610
Raeren drinking jug
1481-1610 (MoL)
I can't locate anything that matches the base of the vessel below. The glaze is similar to that used in Staffordshire in the 17th century and was achieved by dipping. The clay is similar in colour and texture to the shards I've found from black tygs.
Mudlarking Find: steaky brown glaze
Two nice pieces of hand painted pearlware. Getting quite good at identifying if blue and white shards are from pearlware now, it's the bluish tinge which gives it away, if there is a ridge on the fragment it's easier to pick out as the glaze puddles a bit.
Mudlarking Finds: Pearlware Teapot Spout and shard from saucer.
Two bits of transferware worth putting up.