I've only found one weeny bit of Jasperware on the Thames foreshore. Apart from transferware it's the only pottery I was familiar with before this mudlarking thing started. Displayed in the South London suburban houses of my youth, I knew it as 'Wedgwood' rather than Jasperware. Three decades later I haven't quite overcome my youthful allergy to it.
Mudlarking Find: Jasperware stoneware
I can now at least appreciate the technical achievement. A type of refined matt stoneware, developed by Josiah Wedgwood in 1775 in his search for the secrets of porcelain.
He named it after the stone 'jasper', the white version, the 'base' colour of this pottery. The stoneware was then stained with oxides, either pale blue, dark blue, green, brown, black or yellow. The oxide permeated throughout in the early versions and is termed 'solid'. Costs were later cut by dipping so only the surface was coloured.
1789-1795 Jasperware Teapot (V&A)
Contrasting neoclassical bas- relief designs made this his trademark design and a wide range of products were produced, cameos, vases, portrait medallions and tableware.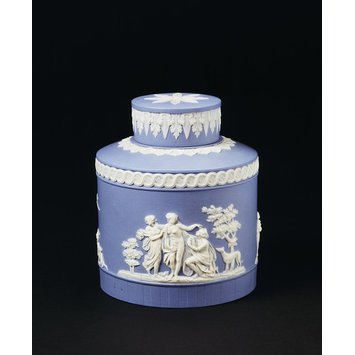 Tea Canister 1795- 1800 (V&A)
Incredibly popular, it was quickly imitated by others including Adams. It began to go out of fashion around 1811. In later years when I learnt that Wedgwood had been an advocate of the abolishion of slavery, giving large amount of money to the cause and producing and distributing the equivalent of antislavery 'badges', his goods were suddenly imbued with virtue.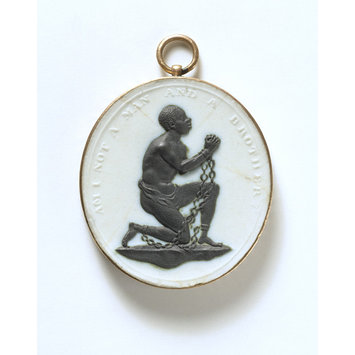 Anti Slavery Medallion 1787 (V&A)