The sun was shining and it was the first day of the Easter holidays. As I sank into the front seat upstairs on the bus, I could sense my face was crumpled with work stress and my neck was stiff. A mudlark was just what I needed.
The sunlight was startling after weeks and weeks of grey. London was quiet, people luxuriating in the Friday bank holiday still snug under duvets no doubt. It was still unseasonably cold.
The bus was on diversion and I greedily took in unfamiliar Shoreditch streets. As we approached Old Street roundabout, I noticed a giant beachball topping one of the lower buildings. The picture below belies its giganticness. The juxtaposition was so marked it left me feeling rather uncomfortable - I like that.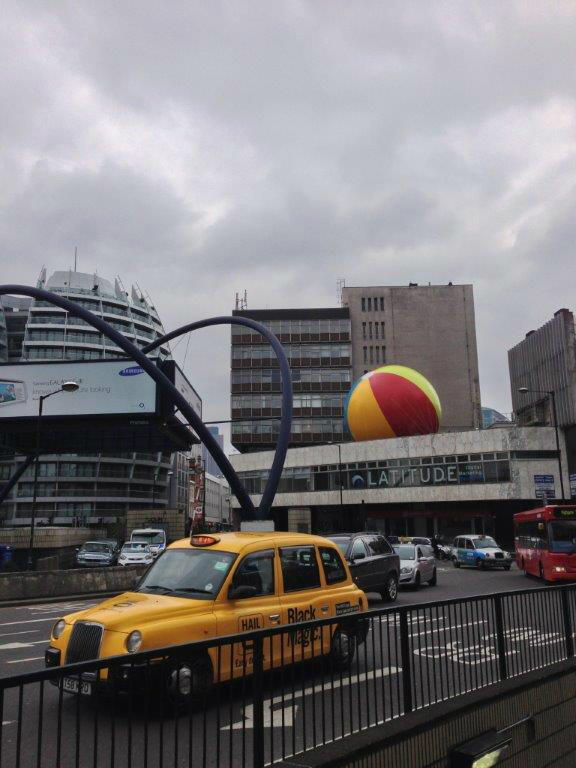 Old Street Roundabout, London (Webb Yates Engineers)
So good to walk alongside the Thames again. This whole routine has become very comforting. Find of the day has to be two decorated pipes. The first boasts a Celtic harp, Ireland's national emblem for over 800s years. Played as the Irish went into battle, it was banned by the Brits in the 16th century, when harps were burnt and harpists killed. Above the harp a ghostly face heads a puff of smoke, the symbolism is lost on me. The pipemakers initials B and P mark the sides of the pipe's foot.
Always handy to have a few other mudlarkers around to help with identification, Brian immediately knew the shield on the second clay pipe was part of the the City of London's coat of arms, this time a K and an R on its foot.
Another Bartmann beard beconed me, the mouldings look so defined and pristine it's hard to remember they are 300 - 500 years old. I can't find a precise match, the closest is shown below.
Mudlarking Find Frechen Bartmann Beard 1551 - 1700
Frechen Bartmann Jug 1551- 1700 (Museum of London)
Over the last year I've picked up a few of these tiny circles of wire, just because they looked so perfectly made. Through reading Lara's mudlarking facebook page, I've found out they were used to hold bundles of expensive handmade brass pins from the 14th - 17th century, covered in this earlier post.
Mudlarking finds holders for bundles of pins 14th-17th C
Couldn't resist this large and fine example of one end of a medieval strap handle, stabbed and incised to both decorate and stop the clay fracturing as it was fired, the lead glaze made green with the addition of copper and remarkably up to 800 years old.
Kingston ware type jug 1240- 1360 (British Museum)
It was unusual to find the decorated bottoms of a couple of Chinese export porcelain tea bowls with their makers marks underneath, is the second a couple of fish?
Mudlarking Finds, Chinese Export Porcelain Tea Bowls.
A couple of small pieces of Japanese Imari Porcelain covered in this earlier post, the second shard I suspect comes from the same vessel as one of the pieces in this last post.
Mudlarking Finds Imari Porcelain 1650-1750
I do like these segments of hand painted pearlware, often surrounded by the very common shell edged designs, there is something about their naivety and modern feel that appeals. This time the shards are curved so from a bowl or chamber pot perhaps, but the one on the left looks like its from the 'Chinese house' pattern.
Mudlarking Finds Hand painted pearlware circa 1800
Below Antique English Pearlware Hand painted Dish 1790s decorated with Chinese House pattern (Ruby Lane)